Mall Monkeys That Didn't Make Itin alphabetical order
CENSORED
Affiliation: CENSORED
Description: THIS CARTOON DRAWING AND SHORT DESCRIPTION WAS TOO OFFENSIVE TO REMAIN HERE. SORRY FOR THE INCONVENIENCE.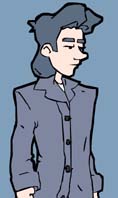 Depressed Billy
Affiliation: Loser
Description: Billy was really Depressed. When he was barely ever used in the comic, he just snapped and killed himself. R.I.P., Billy.
Jess
Affiliation: Emo Girl
Description: Jess used to be in Mall Monkeys, but now she's not. When she complained about being drunk and half naked in one of the comics, I realized just how gay it is to have real people star. She was replaced with JAMERZ!!LOL
Keith's Penis
Affiliation: Phallus
Description: Keith's Penis was originally added to cause mischeif and mayhem around the mall. The penis also had mind control powers over Keith which could explain a lot of comic flaws (or just create more). Keith's Penis was cut in preproduction when we decided that we didn't want our comic to turn into a cheap hentai strip.
No English Speakin Maria
Affiliation: Mall Staff
Description: No English Speakin' Maria would've been a great addition to the Mall Monkeys crew. But we realized, she's not very dynamic, being unable to speak a word of English and all.
Old Brad
Description: This is just one of the first Mall Monkey drawings ever, I thought I'd throw on this page.
Zerik
Affiliation: Demon
Description: Zerik is Eric's evil clone. Zerik probably would have run around killing people if he was in the comic. Which, on paper, sounds like a good idea, but it just didn't work out. Zerik makes short appearances on the forum, though.